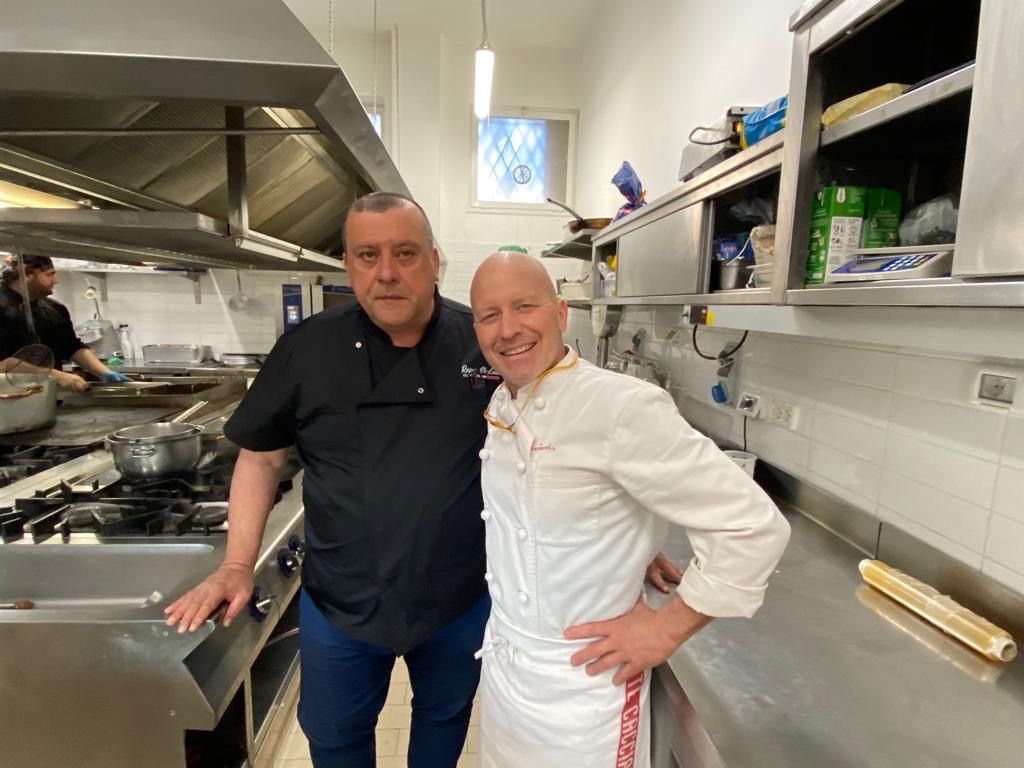 When you visit the Rome area in Italy, don't miss a delicious meal at the famous restaurant Cacciani in Frascati to discover popular Roman specialties and live a full meal like an experience of the senses. That's exactly Chef Rosario De Luca's goal: Preserving his land's culinary traditions and allowing his customers to have a real journey into the flavors of Italian cuisine.
The Rome-native chef believes in the importance of tradition in food preparation and considers it to be the best form of innovation. "Traditional dishes have the ability to evoke strong emotions and memories, taking people back to their childhoods" he states.
According to the chef, tradition is not static but is constantly evolving to adapt to changing circumstances, such as the availability of ingredients and changes in food culture. Innovative twists shouldn't mean losing authenticity. "Many dishes, especially in the United States, have lost their real Italian flavor to adapt to American habits and taste. For instance, many cooks abuse of heavy cream and butter while making Italian specialties. Our cuisine mostly uses olive oil, which is healthier and lighter," the chef says.

De Luca's journey into the culinary world was not an easy one, as cooking was primarily seen as a task for women in Italy. Despite facing resistance from his family and society, he pursued his passion and eventually became the main chef for "primi" (pasta and risotto) at Cacciani. During his time there, he cooked for American presidents, celebrities, politicians, musicians, actors, and athletes. "Ronald Reagan and George Bush loved Italian cuisine. I offered them a 'cacio e pepe' pasta for the table and it was a huge success," he remembers.
De Luca's unique style follows Igles Corelli's circular cooking philosophy, which aims to reduce waste in the kitchen as the best way to decrease food cost. "I am experimenting a leavening water made from the skin of onions, carrots, zucchini, potatoes, and other vegetables," he explains.
The chef emphasizes the importance of using high-quality, authentic ingredients and avoiding food waste. He believes that using shortcuts to cut costs, such as cheap ingredients, can result in a total change in the flavor of the dish. Therefore, a loss of traditions. Respecting a waste-free approach, De Luca invented new recipes to maximize the use of ingredients, such as gnocchi made with stale bread.
The renowned Italian chef is also a certified teacher for executive chefs and pizza-makers. He collaborates with the "Pizza and Passione" Institute (Istituto di FormazioneProfessionale Pizza e Passione, with over 100 branches in Italy and internationally), where he teaches master classes on kitchen management and topping, the art of giving the finishing touches to a dish.
Recipe
Here's a perfect example of waste-free cuisine. The taste is excellent! Gnocchi are usually made with fresh potatoes. This version by chef De Luca uses stale bread that is at least 3 days old. You can season these gnocchi with fresh tomato sauce (see recipe, made from scratch, of course. If you're in the mood for something different, you can choose to season the gnocchi with pesto or butter and sage or four cheese sauce. Otherwise, make your favorite sauce. Use your creativity).
There's an amazing version for special occasions: Burrata-filled bread gnocchi, seasoned with fresh tomato sauce and topped with fresh burrata. Simply spectacular.
Article prepared by Manuela Vecchione