Alviero Martini, He was born in Cuneo, where he completed his art studies and soon began to travel exporting his profession: window dresser. But the fire of art burns in many other areas, and even as a boy he was involved in graphic design, theater and fashion. At 14 he entered a tailor's shop where he learned to cut and sew and would try his hand at this profession in the future. At 20 he forms a theater cooperative where in addition to acting, he makes costumes. At 26 he made his debut as an actor in the theater with Vittorio Gassman, in Pier Paolo Pasolini's "Affabulazione."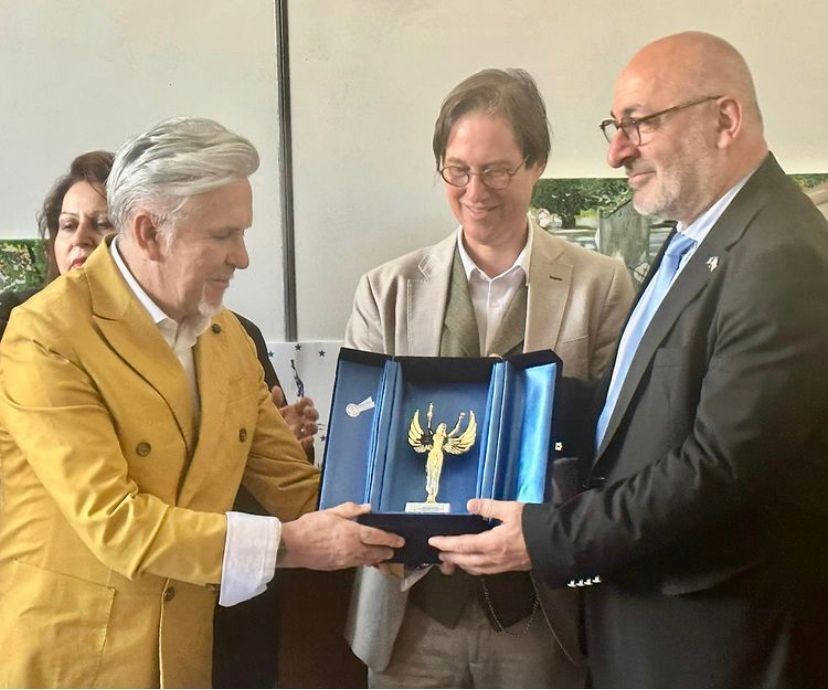 These were years of intense artistic activity between theater, cinema, radio, TV and advertising. But at the same time he cultivated his creativity by devoting himself to multiple professions: illustrator, fashion designer, costume designer, keeping as a base, his profession of origin: window dressing, photographic sets, also trying his hand at design and interior decoration. In his search for "something unique" many years later, in '87, he will meet his destiny. In Moscow he finds a map, a planisphere as fascinating as it is faded. He pastes it on an old suitcase and thus was born the idea of giving birth to an innovative line of bags and luggage that have the map as their motif. It's 1990, and that's the year of worldwide success. Identified as the creator of a new concept of travel, the appellation handed to him as "TRAVEL STYLIST" enters his life overwhelmingly. Until 2005, he designs creates and manages the famous Prima Classe collection, opening boutiques all over the world with major communication events, and it is in this year that he decides on a new path: he leaves the maps for a new journey in style: ALV Andare Lontano Viaggiando, but ALV also stands for "Amare La Vita," new roads to travel under the banner of a unique and distinct style. The collections feature the Passport print, a pattern in which Alviero has collected all the stamps from his passports and combined them into 5 color variants, for bags and luggage dedicated to sophisticated globetrotters. New horizons in the professional journey of Alviero, who has always been dedicated to fashion, and to the search for prestigious fabrics or refined leathers for new dynamic forms of bags and accessories.
Men's and women's clothing has been present since the first collections, for a sporty, casual clientele, but attentive to fashion details and refined tailoring. "The House of Alviero" is being planned, where in the same warm and welcoming environment, Alviero intends to present the various product classes, from men's/women's leather goods to leather accessories, watches, perfumes, men's/women's socks, sports and formal wear for both her and him, footwear, children's line, and a wide selection of items for relaxation, from pajamas to underwear, from home collection to home accessories, eyewear, and whatever else is needed for ALV travelers.
When was your passion for fashion born and how did you begin to realize your dream?
From an early age, born into a peasant family, I knew that dad's job was not what I wanted to do, and whenever I was asked what I was going to do when I grew up, I always answered with arts, crafts. When I was 8 years old, a petulant aunt asked me the same question, and because I didn't like her I replied, "I don't know!", "How don't you know, all children know what I want to do when I grow up!" "Ah, yes I know. I KNOW THAT I WILL DO SOMETHING UNIQUE THAT NO ONE HAS EVER DONE! " The aunt recoiled annoyed at my response, and I realized that I had thrown a " request" to the universe, stood in a corner thinking about what I had said, and this mantra accompanied me for 30 years, until the age of 38 when, after experimenting with a thousand jobs, I came up with the well-known Geo line of bags. It was 30 years of training, doubts, sometimes even abandonment, but I had that phrase in my mind, a dream, which by persevering, studying, with will and determination, came.
When I "exploded into the world with these products, I started reading and learning about quantum physics, and I realized that I had applied the law of attraction, and I got what I wanted, something unique that no one had ever done!
The birth of its creation excellence in the world "The Map".
I was in Russia, working on furniture and renovating the Brazilian Embassy in Moscow: two years of work and the last day before returning home, I dedicated it to shopping, gifts for family and friends. And I met a map that seduced me.
Where does he get his inspiration?
I walked into a bookstore and suddenly found myself in the globes and maps department. On the wall behind the saleswoman, Irina, with red cheeks and braids rolled up over her ears, was a large geo map, there a long time ago, with the charm that all lived-in, faded things have. I point to the map and she gives me the new wrapped and folded one she had under the counter, NO, I want that one! Pointing at it again: after a half-hour tug and pull, I finally got it, and picked it up, rolled up. I was happy, but didn't know what I was going to do with it. When I got home I found the answering machine full of messages, and one was from a store for which I was setting up windows; they had dismantled the window and were waiting for me for the new one.
Instinctively opening the closet to store the clothes, I saw an old Chinese suitcase that was unusable but had hotel or airline labels on the corners...
I didn't think about it for a second, laid it on the table, and covered it with paper bought in Moscow.
Front and sides, because it wasn't enough for the back as well, but it didn't matter much, it was in the window and so it was the outside that was on view. I left the suitcase with a thought, weak but wondering if that was a good idea. After two days the fur boutique called me, telling me that only people came in to ask the price of the suitcase. I ran to the store, picked up the suitcase, replacing it with another item, and like the child covered E.T. in Spielberg's movie, brought it home covered with a cloth. I laid it on the table, and peered at it from all sides.
It was the pigeon egg: a suitcase with maps! And so began a wonderful adventure, which took me to more than 90 countries around the world where I opened boutiques, shower rooms in all latitudes, with "that unique something!"